At the intersection of ENVIRONMENTAL JUSTICE & DISABILITY JUSTICE
Hey, we really need your help with something. 
This year, our 10th anniversary Festival Focus "Re-Generation: Food, Environment & Land," takes root in our cultural legacies of sustaining the earth, sowing seeds of resistance and cultivating justice.
As people of color, we are environmentally at-risk every day.
We have less access to healthy foods, clean water, and sustainable energy. Affordable housing can be filled with pests, mold and chemicals. As workers, we deal with toxic cleaning products, artificial nail & polish fumes in salons, hair dyes and straightening relaxers, high VOC & wood stains, pesticides & lawn chemicals, off gassing electronics, fossil fuel exhaust and synthetic oils. And our neighborhoods are sometimes built upon radiation, and military & industrial pollution.
Our communities disproportionately bear the burden of environmental injustice, and this has an intense impact on our health and our bodies. From perfumes to essential oils, scented products to anything with petrochemical-based "fragrance", chemical clouds do damage. As environmental injury and severe chemical sensitivity increase, it is important that we examine the intersection of environmental justice and disability justice. 
For QWOCMAP, justice is about access and equity. As queer women of color, gender nonconforming and transgender people of color, we strive to create spaces that are accessible to all of our people. 
---
Fragrance Free @ Film Festival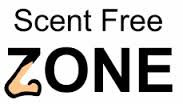 The 2014 Queer Women of Color Film Festival:
RESPECTS community members who are environmentally at-risk and chemically sensitive
OFFERS SCENT-FREE seating
WORKS with our venue to use fragrance free, non-toxic cleaning products and other supplies, and avoid scented products
RESPECTFULLY REQUESTS that all audience members, volunteers, partners and community members AVOID scented-products, and REFRAIN from wearing, bathing with, using on their bodies or washing their clothing with products that have fragrance
This has been QWOCMAP policy for several years. Yet we also understand that ending ableism and creating disability justice is an ongoing process. 
We were dismayed that several community members have had to leave the Film Festival due to illness caused by scents and once again, we extend our deepest apologies. We thank you for letting us know and working in community with us to figure out solutions. We deeply appreciate your leadership and knowledge. 
We ask not only for our larger community, but also for ourselves as 

QWOCMAP

 staff, Board, interns and Film Festival volunteers. We are also people with environmental injuries and chemical sensitivity. We need a fragrance free space so that we can do our jobs, and maintain our health, while we work hard to serve you.
Our audiences need a fragrance free space so that we can all let our spirits soar in a combination of films and community. 
As we prepare for our upcoming Queer Women of Color Film Festival, we wanted you to understand our process. 
We're happy to answer queer queries at any time.